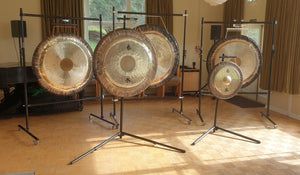 GGS Tripod XL. (Bag not inc.)
Sale price Price $609.00 Regular price Unit price / per
Tax included.
Shipping
calculated at checkout.
This is the new Aluminum Tripod XL stand. 
Rattle free.
Light weight. (3.5kgs)
Very strong.
Double Telescopic.
Simple to assemble.
This stand is very strong and very light weight. Using our knowledge in engineering materials we have been able to produce a stand from a high grade of aluminum tubing which can support up to 25KG or 55lbs.
Weighing less than 3.5KG or 5.5lbs this is a very light stand and very strong.
It features a double telescopic main tube which when fully extended to a maximum height of 1.9 mtrs will accommodate up to a 42" gong and can be played standing up.
The stand features slip resistant rubber boots on the leg tubes which are also telescopic this will ensure the stand is secure and stable no matter what surface it is on.
This stand is available in two main types and colours, Aluminum Silver and Black.
Please note the gongs in the pictures are not for sale.
There is an option for a bag which can be found on the Accessories page of the website. Bag dimensions are 80cm x 35cm x 20cm approx.
production of all the tripod stands are done in small batches every two months and a batch takes approximately 6 to 8 weeks to finish. please email for a more accurate leadtime
We are sure this stand is perfect for everyone, young or old, big or small. Whether you are new to gong playing or have been in this world for years we are sure this stand will work for you and it is great for kids to use too.